Landscape Tree Evaluations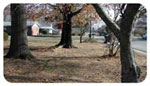 There are many cases where a tree value is required when damaged in the urban environment. Automobile accidents sometime cause landscape tree damage and the insurance companies require a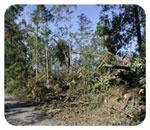 replacement value.
In other situations, land uses demand the "taking" of landscape trees for sidewalks, buildings or other improvements. Homeowners need to be aware that their trees do have value and can be worth much more than they expect.
Wind, rain, and lightning storms can also have an adverse effect on trees and may allow homeowner's to recover their landscape value. Our Certified Arborists are professionally trained to perform the necessary field and office work required for any and all claim reports.
William H. Lock & Associates, Inc. can produce a very simple estimate of value or any type of highly detailed report depending on the landowner/homeowner's needs.
Please contact William H. Lock & Associates, Inc. at (336) 632-9088 or whlock@whlock.com for more information concerning landscape tree evaluations.